Music
EARTHLINGS
Due to the pandemic we have moved the release of EARTHLINGS to an unknown future date. Stay tuned for updates!
Ghost Shows
Little Lizard's new single "Ghost Shows" is a haunting manifestation of the duo's minimalist brass and bass funk punk. Built on distorted 808 kicks and analog synth bass members Lizz D. and Shea Daniel switch roles with Lizz delivering a punchy trumpet lead while Shea holds down the low end and spooky digital synth. Shifting to a sparse trumpet and bass groove the duo savors in the suspense before descending into a hair-raising theremin solo. Creeping back in with trumpet and bass this terrifying ordeal seems over, or is it? Appearing on Little Lizard's upcoming album EARTHLINGS coming later this year, fingers crossed the current situation turns around soon, on Guilt Ridden Pop Records.
Spotify ☆ Apple Music ☆ Deezer ☆ Tidal ☆ Bandcamp ☆ SoundCloud
Take Me to Your Leader
"Take Me to Your Leader", the opening track from funk punk duo Little Lizard's forthcoming album EARTHLINGS, lifts off on a Space Age groove. Inspired by classic Sci-fi and B Horror flicks "Take Me to Your Leader" is dominated by funky basslines and metallic 808 drum beats. Punctuated by Shea Daniel's bursts of electrified trombone and digital synthesizer the duo really stretches out before kicking into warp drive with a full-fledged brass breakdown where Lizz D. trades her bass for trumpet. Intergalactic and highly danceable this number will get your body on the dancefloor and your eyes on the skies. EARTHLINGS will be landing in 2020 on Guilt Ridden Pop Records.
Spotify ☆ Apple Music ☆ Deezer ☆ Bandcamp ☆ SoundCloud
2019 Singles
Star Child
The second single from their upcoming album EARTHLINGS, "Star Child" exemplifies Little Lizard's evolving sound with dueling trumpet and trombone over banging 808 beats. Combined with arpeggiated synth and vocal samples "Star Child" is a brassy romp that will make you believe "you are a star child now!"
Spotify ☆ Apple Music ☆ Deezer ☆ Tidal ☆ Bandcamp ☆ SoundCloud
Take Me To Your Leader
Secret underground cities, unidentified lights, and poltergeists collide to create an out-of-this-world groove on Little Lizard's "Take Me to Your Leader". The first single off their second LP EARTHLINGS the duo explores uncharted sonic terrain with an expanded arsenal of sounds. Incorporating 808, FM synthesis, vocoder, and trumpet "Take Me to Your Leader" is a funky flying saucer ride driven by Lizz D.'s low-end thump and Shea Daniel's effected trombone. Reminiscent of the Talking Heads and Studio One Ska, Little Lizard has documented a sound that is truly Funk Punk.
Spotify ☆ Apple Music ☆ Deezer ☆ Tidal ☆ Bandcamp ☆ SoundCloud
Premium Vanilla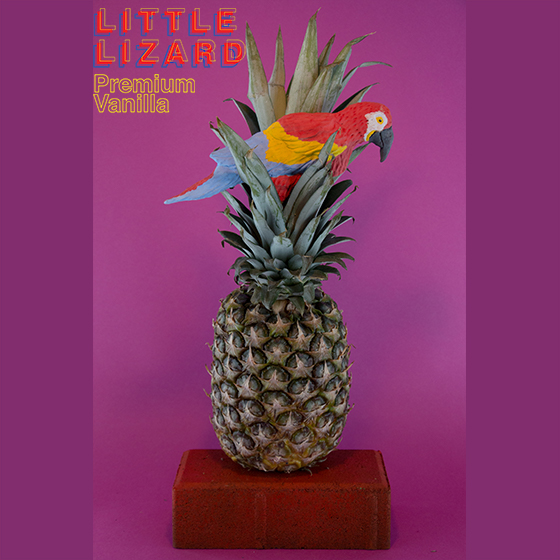 From start to finish Premium Vanilla, the debut LP from Little Lizard, immerses you in a psychedelic brass band daydream full of analog synth, funky bass, and boom bap drum machine beats. Set on capturing themselves in true form the Minneapolis duo flew to Brooklyn, NY to lay down nine zany tracks starring the trombone and electric bass. Naming their instrumental creation "Funk Punk" Little Lizard draws from electro, dub, hip-hop, and 70s soundtracks to produce a lighthearted sound focused on good vibes and getting your boogie on.
Coming out blazing with "Greetings", a wall of reverb feedback gives way to a funky little groove setting the tone for the album. Bouncing from 8-bit synth to plunger mute trombone on "The Flipper" and jungle samples on "Rainforest Romp" Premium Vanilla is an uptempo adventure that walks a thin line between whimsical and insane. Not all sunshine and rainbows darker themes find their place in the harpsichord-like synth and fuzz bass of "Which Witch" and the melancholy trombone of "Sunburnt". Not letting up until the last track, "Vienna" is a downtempo number employing dreamy synth and smooth bass lines that are peachy keen to the last drop. Cover art by Daniel Jaffe.
Spotify ☆ Apple Music ☆ Deezer ☆ Tidal ☆ Bandcamp ☆ SoundCloud
BIO
Trombone funk and bass punk collide in Little Lizard's cold-blooded groove. Brassy and offbeat the duo, consisting of multi-instrumentalists Lizz D. and Shea Daniel, have tossed the book out the window to develop a fresh instrumental sound. Self-described as "Funk Punk" Little Lizard uses trumpet, trombone, synthesizers, electric bass, and a sampler to create tuneful melodies and boogie inducing beats. Whether enjoying one of their albums or witnessing them seamlessly switch instruments live Little Lizard will get your body moving.
Coming from a brass band background Lizz D. and Shea Daniel founded Little Lizard in 2017 as a way of incorporating horns back into their lives. After playing with the idea for sometime Shea Daniel eventually put together the Break a Tooth and My City Is Cherry Flavored EPs. Laying the foundation for the "Funk Punk" sound the duo began perfecting their style live while writing material for their debut LP Premium Vanilla. Released in 2019 Premium Vanilla is a tropical-tinged, rhythmically dense adventure showcasing Lizz D.'s low-down thump and Shea Daniel's effected trombone. Presenting a polished brass and bass groove the album explores new territory with a menagerie of wildlife samples and analog synth patches.
Inspired by their love for science fiction movies and paranormal TV shows Little Lizard is currently getting out-of-this-world on their sophomore album EARTHLINGS. Releasing the singles "Star Child" and "Take Me to Your Leader" the duo has expanded their sound through FM synthesis, 808 beats, vocal samples, theremin, and duelling brass with Lizz D. on trumpet. Arriving in 2020 keep your eyes to the skies for more information about the EARTHLINGS release.